It's 10 p.m. and I'm in a Brooklyn hotel telling a giggling Gideon to close his eyes so sleep can come. Well, that what I get for feeding him a slice of chocolate cake right before bed. It's going to be a long night.
Gideon rode his first train on Sunday.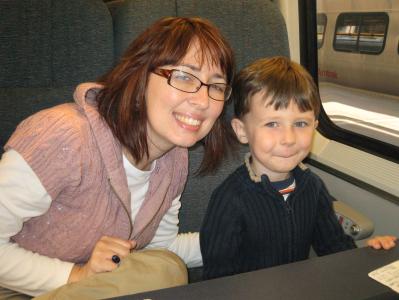 We're tagging along with Chris who is attending
this conference
. Aside from the work, it's mostly a family trip, I'm not attending any readings or anything like that. This morning Chris took Gideon to the conference and let me sleep off my martinis with Ms. Essbaum from the night before (I said it was
mostly
a family trip).
The conference even made Gideon his own badge. Do you think AWP would do that? Sure, if I signed him up 2 months in advance and paid $200.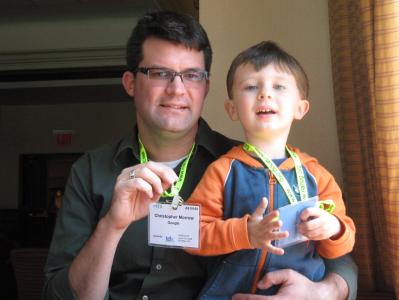 I got to see Jill's
latest tattoos
.
I do not approve.
If you're ever wondering whether or not you should get a tattoo, call me up and I'll talk you out it in my patented annoying mom-style. That's right, I'm taking an unpopular stand. Cause I'm somebody's mother and its my privilege to tell you what I think you should do with your life.
Tomorrow Gideon and I might take one of those double decker bus tours. If he ever falls asleep tonight.