The Mix
It didn't snow one single flake here and although there's still 45 minutes left in the day, I managed not to drive off a cliff. A big accomplishment for me.
The estimate for last week's accident is $1300 and five days of work. I have insurance with a $250 deductible -- so it'll get fixed. My car is 13 years old, I'm not putting any major cash into it.
According to my hairdresser, I am her
favorite
poet. Probably because she's never read my work. Also, she inquired about Jill Essbaum who accompanied me on my bang trimming in December. Sounds kind of dirty, doesn't it?
I'm guessing Jill is my hairdresser's second favorite poet.
The tiaras arrived today and they are gorgeous! Although mine was supposed to be gold-toned (to match the flecks of gold in my dress), it arrived silver-toned so I guess I'll look like the big asshole at the pageant.
Why am I wearing a tiara? Because I want to. But don't worry, mine looks completely different. It looks like this: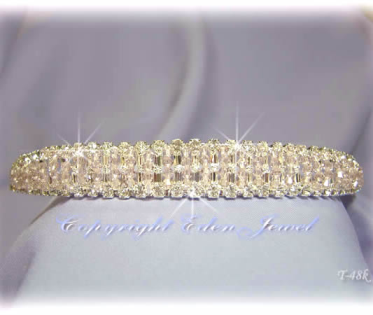 Except it's not gold-toned.
We just made arrangements to spend Gideon's 3rd birthday in Tahoe! We'll be teaching him how to ski. When I say
we
I mean Chris. Chris will teach Gideon how to ski. When I say Chris, what I really mean is he'll be nearby when Gideon gets a lesson.
I don't ski. I play nickel slots.