Green Bikini
Headed to the beach soon. It occurred to me that I haven't purchased a new swimsuit since I was 3 months pregnant. In August 2004 I only gained a few pounds so I bought a suit one size bigger than normal. Well, I've been one size up ever since then and wore that suit summer of 2005 and 2006. The thought of wearing that suit for a FOURTH summer depressed me, even more than the thought of bathing suit shopping.
Oh, I'll get a tankini, I thought, that'll be OK. No, they were all loose in the waist -- most unflattering -- and my stomach is OK, two years of pilates! I don't need to hide my stomach.
A young sales associate helped me. A lot of the tops were very low cut. I cracked my standard, "I can't go around in that, I'm somebody's mother!" prompting her to bring out a suit by
her
mother's favorite designer. Sigh.
Her name was Brittany. Gideon had a HUGE crush on Brittany. They hung out the entire time.
Oh you think your mother is embarassing, mine . . .
Sigh, sigh, sigh.
After trying on 20+ suits it was decided: this is the summer of the green bikini.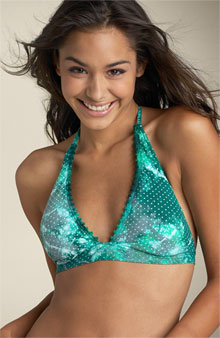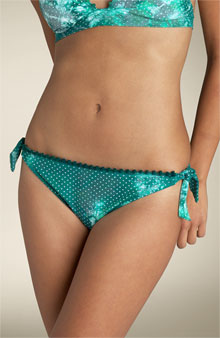 Labels: big enough to cook a turkey