I (finally) responded to every single
No Tell Motel
submission from the October reading period -- there were so many, lots of good submissions, it took a long time and we probably declined the most "quality" poems from this period than ever before. I hate that part, but it's part of the job. In some cases we turned down work that was quite good, but felt like we already published a lot of similarish pieces already. We want the magazine to keep growing, still surprise readers.
Aside from updating the
No Tells
blog, I am done doing publishing stuff until 2009. I need a break. It's going to be all Christmas preparation and family stuff -- maybe after the 25th I'll read some books and write a poem or two.
We put up (but not yet decorated) our tree tonight, triggering some tree anxiety. Last year I insisted on a really big tree and it was too big, so this year I told Chris to pick one. I thought the one he selected looked too big, but he said it wasn't, but turns out it sort of was, branches pressed up against the walls and it hadn't even "settled" yet -- Chris needed to cut a lot more off, which he really didn't want to do cause he said it weighed 100 pounds and he didn't want to take it out of the stand. But I was unhappy so he took it out of the stand and cut a bunch off from the bottom and now everything is OK. We have a big, but not ridiculous tree.
Now the house is covered in glitter and pine needles. I haven't even mailed out any of our "homemade" Christmas cards yet. We made a bunch of ugly ornaments. Happy Birthday Jesus, hope you like painted crap covered in glitter.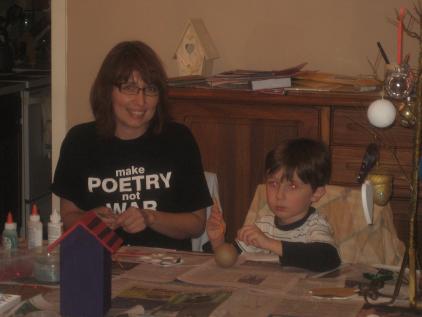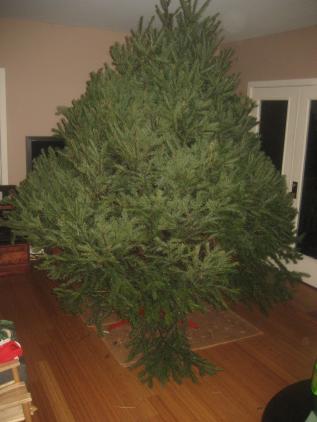 After the extra trimming: