This Won't Become the Baby Blog
But since a few of you have written me or commented here on my belly and breast size, here's a pic of me at 21 weeks (taken last week). A few of you have already seen this. I'll post another one when our new aubergine sofa is delivered on October 26th (yep, that's right Aubergine poets, eat your hearts out, there's a matching chair too). I'll be 24 weeks (six months) and should be a real hog then. I don't imagine I'll be posting any more photos of myself after that. I don't want to contradict the cruel jezebel image I've worked so long to cultivate.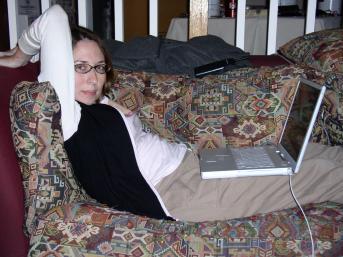 Now back to your regularly scheduled cackling jackal.