Every Day is Valentine's Here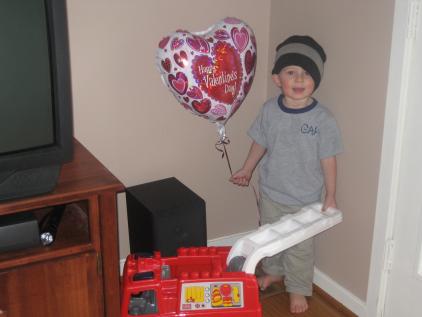 Gideon's new obsession: balloons. Can't get enough. Right now there are four balloons in my home, probably an all time record.
Been pretty busy. It's not easy being the perfect wife, mother, poet, editor and pubisher. It takes time. Effort. Lots and lots of spackle.
Stayed up to 4 a.m. last night answering interview questions for an online poetry/art magazine. The editor expressed gratitude for my responding and doing so promptly. Apparently not every poet does that. I don't understand, somebody out of the blue e-mails and says "hey, I like your work, would you answer a few questions for an online interview" -- what poet passes on that? Is everyone else getting tons of interview requests? Not me. I've received a few -- and always make responding a priority. I don't have enough readers to take any for granted, to pass up on an opportunity to find a few more.
AWP -- egads, seems like just yesterday I was weeping in an Austin elavator, totally exhausted, sleep deprived. Not this year. No book fair monkey table for No Tell Books. For hundreds of dollars less than the price of a table, I purchased a very smart messenger bag. You want a No Tell book -- look for me in the hotel bar where I'll be setting up my store front.
I'll have a limited number proofs of Shafer Hall's
Never Cry Woof
-- if you're interested in acquiring a review copy, rendezvous at above destination. The book should be available to the crazed masses mid-March, barring any disasters.
I'll be reading Wednesday night at the Pussipo reading and Saturday night at the Pilot/Black Ocean/Octopus/No Tell event. Will post more details about that soon.
Monday night is Detroit Night at
Burlesque
-- only two of the four author bios are up -- waiting for the other two. Hopefully they'll be up soon.
Labels: AWP, love, meet me at the bar, never too busy to talk about myself, no tell books