Thanks everyone for your broken tooth fix suggestions -- as well as other kindly comments. Hopefully I'll be able to get in to see my dentist tomorrow. Been putting my nose to the grindstone working on the last of the No Tell subs (only 9 more to go!) and getting ready for upcoming travel. The boys are going to the beach tomorrow. Tuesday I'm heading up to NY for the
Marist Summer Writing Institute
for a couple days. On Weds I'll be speaking on a publishing panel. Then I'll drive back and meet the family at the beach.
Today we bought Gideon one of those plastic kiddie digital cameras so he can more seriously pursue his photography (and not drop our cameras into the ocean). It has all kinds of interesting features, like check this out: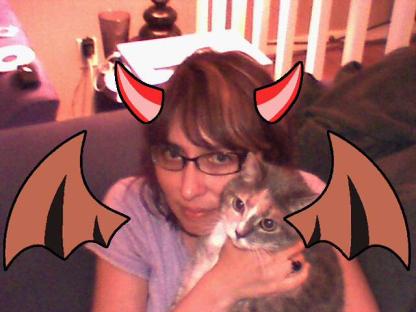 I'm the demon who's held your submission for 3 months! Nyuck Nyuck Nyuck. Now excuse me while I drink this cat's blood -- which I intend on doing before answering your submission cause I'm just that evil.