AWP Saturday Night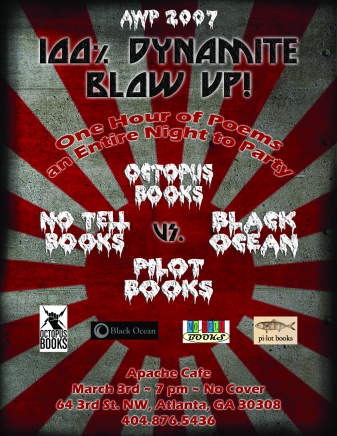 Black Ocean
(www.blackocean.org) brings together a spectrum of influences—from silent films to punk rock—and manifests that aesthetic in the books we print, the shows we produce, and the work we promote. In conjunction with our book releases, we stage parties, concerts, exhibitions and other celebrations around the country. Our readers will include Zachary Schomburg and Paula Cisewski.
No Tell Books
(www.notellbooks.org) is an independent press specializing in poetry founded in 2006 by Reb Livingston, publisher and editor of No Tell Motel (www.notellmotel.org). Their readers will include: Bruce Covey, Jill Alexander Essbaum, Shafer Hall, Reb Livingston, Karl Parker, Laurel Snyder.
Octopus Books
(www.octopusbooks.net) is a small press launched by the editors of Octopus Magazine. It publishes two full-length books of poems each year, in addition to solicited chapbooks, broadsides from poems published in Octopus Magazine, and other projects. Octopus #8, a set of 8 chapbooks, is currently available. Also, chapbooks from Lily Brown and Jonah Winter, and a full-length book of poems from Julie Doxsee are forthcoming. Reading for Octopus tonight are: Julie Doxsee and Lily Brown.
Pilot Books
(www.pilotpoetry.com) is the paper cousin of the online poetry magazine Pilot. We strive to publish innovative work, and believe that innovative work demands innovative design. All of our limited-edition chapbooks and broadsides are designed and printed in ways unique and luminous to the manuscript itself. We use fine papers and construct all books by hand. Authors who will read: Lori Shine, Friedrich Kerksieck and Anthony Robinson.
Labels: AWP, black ocean, no tell books, octopus books, pilot books