Ho
I'm frantically trying to get everything done before I leave for Europe tomorrow. A sick child alters one's schedule. I was able to finish Karl Parker's first galley of
PERSONATIONSKIN
, make the
No Tell Motel
Pushcart nominations and respond to many
No Tell
submissions, but not all of them. I have around 60 left and I'll be working on them tonight between laundry and paying bills, but there's no way I'm getting them all done tonight. Sorry, the rest will have to wait until I get back.
If you're waiting for an e-mail from me, that might have to wait too.
On a happier note, we went to dinner at the Lebanese Taverna at the richer's mall. Thought it was a safe bet cause there's no fabulous "deals" to be found there. It was! Not only was there not a crowd, there wasn't even a line for the Santa, not a single child. I hadn't planned on taking Gideon to see Santa today, but the angels work in mysterious ways. So I licked one hand to clean the crusted snot off his face and the other to smooth his hair. This one is pretty nice, although I still prefer
2006
.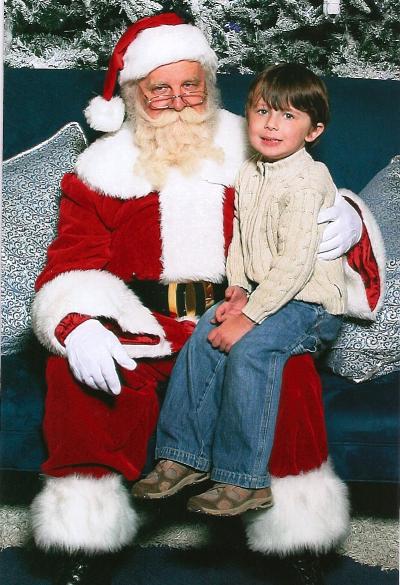 Goodness, 3 3/4 and he's almost as big as Santa.
Apparently Gideon wants a puppy.
He's not getting a puppy.